1st St Andrews Golf Festival - 2012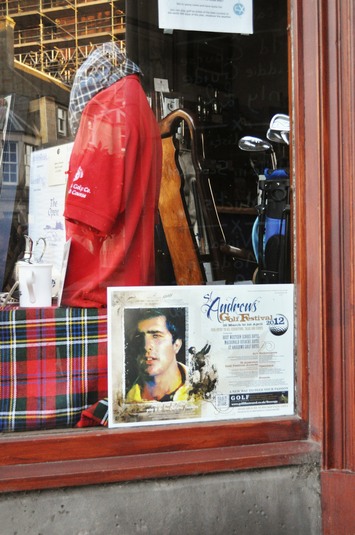 I exhibited for the very first time at the 1st St Andrews Golf
Festival which ran from 28th March until 1st April 2012.
I put together a Ryder Cup theme for my display, and also provided
some of my personal Seve Ballesteros items for display.
The Official website of the event can be found by clicking this logo: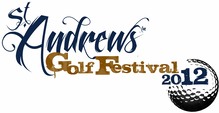 The event was held in various venues, with my display being exhibited in
the Scores Hotel, St Andrews.
The Scores Hotel, beside the Hamilton Halls, one of St Andrews most
Iconic landmarks, which is currently undergoing major renovations
Official Festival Video, with a mention at 3:55 about my collection
SCOTTISH GOLF MUSEUM - RYDER CUP DISPLAY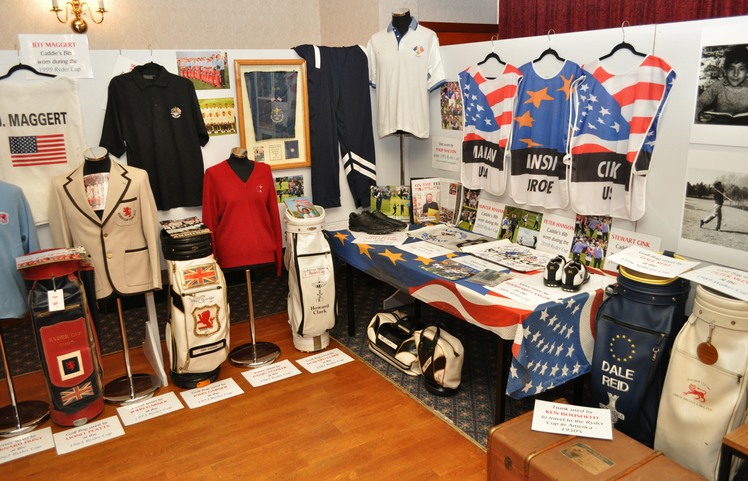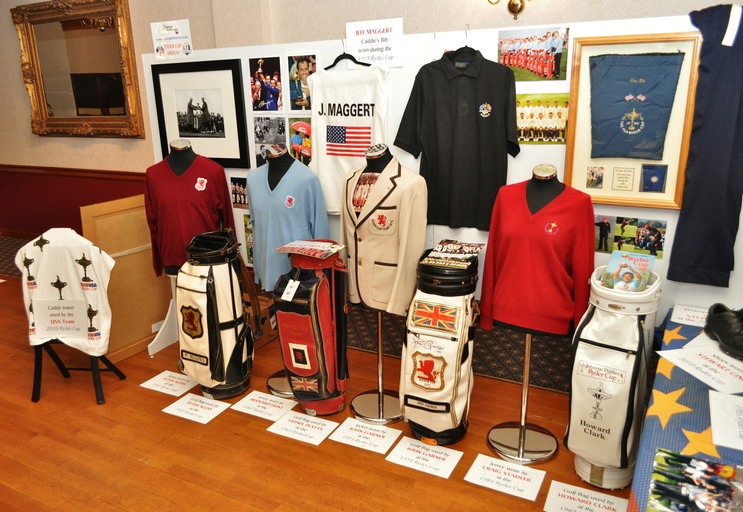 SCOTTISH GOLF MUSEUM - SEVE BALLESTEROS DISPLAY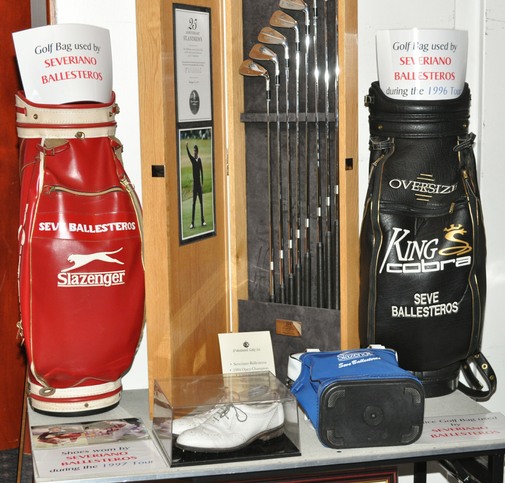 During the 5 day festival I met many wonderful people, both from the
Festival itself, and from others who visited. Many famous people visited
the Festival and viewed my display. The highlights are shown here:
THE CURTIS CUP
The Ladies Golf Union displayed the Curtis Cup, the most important trophy
in Ladies Amateur Golf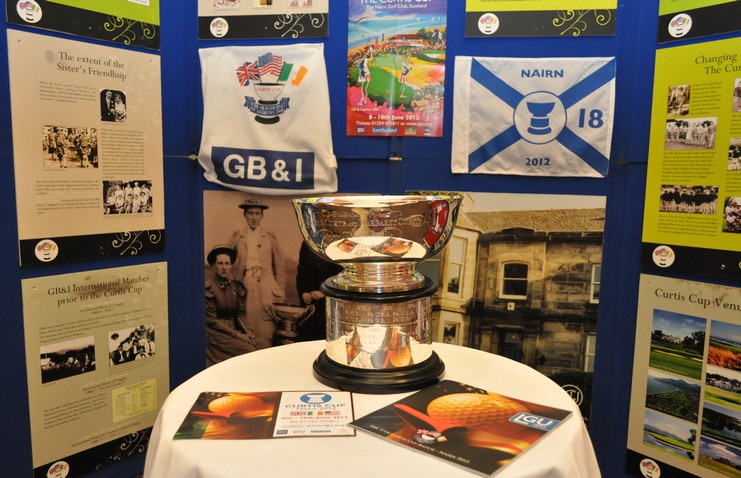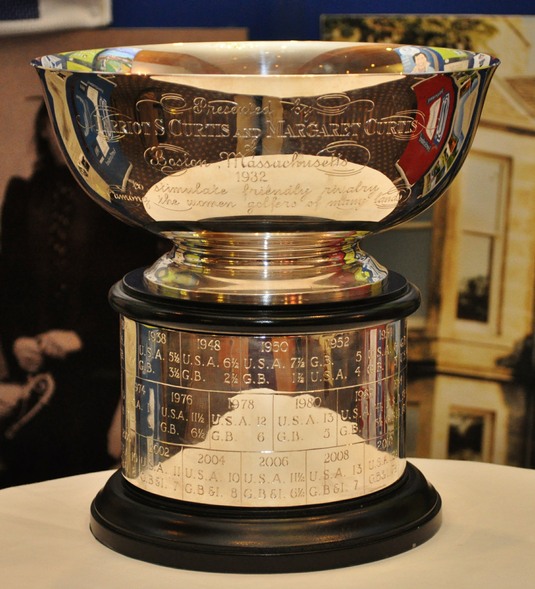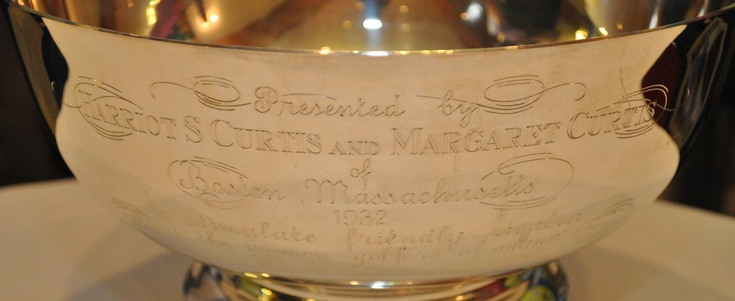 The Curtis Cup
LGU Official Website:
KYLE PHILLIPS - Golf Course Architect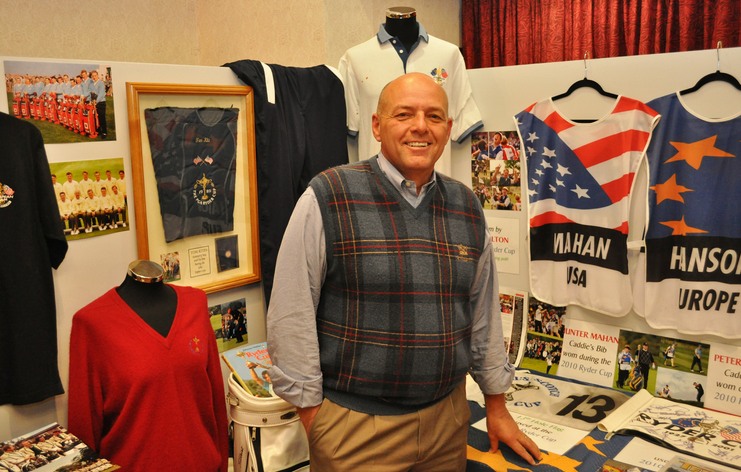 Kyle Phillips
"Kyle Phillips is the President of Kyle Phillips Golf Course Design and a
member of the American Society of Golf Course Architects (ASGCA).
With more than 25 years of world-class golf course design in 5
continents. His design work has taken him to more than 30 countries, on behalf of over 60 clients where he has earned a reputation for developing creative design solutions to a variety of environmental and planning issues.
During his 26 years of designing courses in Europe, Kyle has studied and been influenced in his designs by the landforms and strategic qualities of the great links and heathland courses. These courses continue today to define the standard for the best in golf course architecture."
Kyle's Official Website:

DALE CONCANNON - Author
"Dale is a full-time golf journalist and author with over a dozen books to his name including his Sunday Times best-selling biography of Nick Faldo: Driven.
As a former PGA professional he remains the first to play an exhibition match inside a British Open prison on a five-hole course laid-out by the inmates! Taking no blame for the riot that saw it dug-up as punishment twelve months later, he continues to promote golf as a means to rehabilitation among teenage offenders.
A member of the Golf World panel that selects the United Kingdom's top-100 courses, he is a long time collector of rare antique golfing memorabilia. Advisor to many top collectors and institutions, he also owns and manages one of the finest collections of early golf photography in the world."
Dale attended the Festival with his stunning collection of photographs which had originally belonged to Old Tom Morris

Dale's display of Old Tom Morris's photographs
LEWINE MAIR- Golf Writer
Dale Concannon and Lewine Mair
"Lewine Mair is the first woman to serve as the Daily Telegraph's Golf
correspondent – and the first to have been given a specialist position on the sports pages of a national paper.
Born and brought up in Birmingham, Mair made telling use of her time at the Convent of the Holy Child to practise her golf at the adjacent Edgbaston Golf Club. She had a three-handicap at 16 and played for English and British girls' teams in the 1960s. She was also a member of Marley Spearman's senior England side which defeated France at Royal St George's in 1966.
At the same time as she was studying languages and shorthand at the Midland Bureau, Lewine Guermont, as she was then, was writing a golf column in the Birmingham Planet. At 20, she was asked to cover for Peter Ryde in The Times, a paper to which she also contributed a series of golfing caricatures.
Married at 21 to Norman Mair, the award-winning golf and rugby correspondent of The Scotsman, Mair had four children by the time she was 25. While her children were young, she continued to work on a part-time, freelance basis. In 1992, when the children were either at or through university, she accepted a position as a sports feature writer with the Daily Telegraph.
Her promotion to Golf Correspondent came in 1997, the year in which she was
on the six-strong short list for the British Sportswriter of the Year award. In April of 2001, she became the first international writer to be placed in the American Golf Writers' Association annual awards, finishing second in the Daily News category with an article on a row involving the former Open champion, Nick Faldo, and the Ryder Cup captain, Mark James. She was nominated for the same award again in 2003.
Mair is the author of several books, including 100 Years of Women's Golf, Carefree Golf, Woman Golfer, the story of Scotland's Belle Robertson, and The Real Monty, Colin Montgomerie's biography."
RICHARD CHORLEY - Golf Artist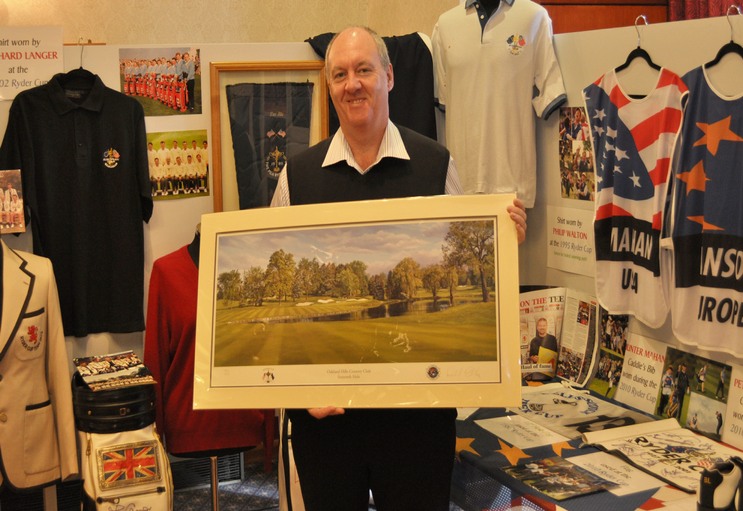 Richard Chorley holding one of his official 2004 Ryder Cup prints
"The life and times of Richard Chorley
Richard was born in Hitchin – Hertfordshire - England in 1958.
His interest in painting started at a very early age when his Mother gave him a set of poster paints. He remembers copying a picture from a calendar depicting a wagon wheel leaning against an old barn in a farm courtyard. His efforts surprised him in producing a passing resemblance to the original image, this kindled a desire to reproduce his surroundings in two dimensions through the medium of art.
Painting and drawing was always his main hobby and, although he initially did not wish to pursue a career in art, his talent led him to be persuaded to take an A Level in the subject. A two year course which he completed in one year as he was encouraged to leave school and get 'a proper job'. A fifteen year sabbatical as an electrical technician with British Aerospace, led him to the Middle East where he remained for four years.
His career actually started when a golf professional came across Richards work and, on his advice, he was encouraged to produce some golf art. His first 'golf pictures' were portraits of some of the worlds greatest golfing characters. These pictures were purchased immediately and the following demand was so great that Richard decided to concentrate solely on Golf images. Apart from golf landscapes, his other interest is portraiture and he has done a number of these to complement his portfolio.
Since turning professional at the beginning of 1997, Richard has been painting some of the most prestigious and famous courses in the world as well as private commissions. A journey which has taken him from Pebble Beach to Augusta. His evocative and detailed images of the great courses in Scotland, Ireland the United States and Europe have won him acclaim and admiration. His modesty, charm and warm personality have endeared him to those who know him and his talent speaks for itself.
Some of his most notable achievements are as follows:
Winner of the inaugural 'Art of Golf Festival' held in Pinehurst – sponsored by Golf Digest.

Founding member of the 'Academy of Golf Art.'

Official artist for the Jack Nicklaus Memorial Tournament.

Official artist for the 2004 Ryder Cup held at Oakland Hills Golf and Country Club."
Richard's Official Website:

DARIUS OLIVER - Author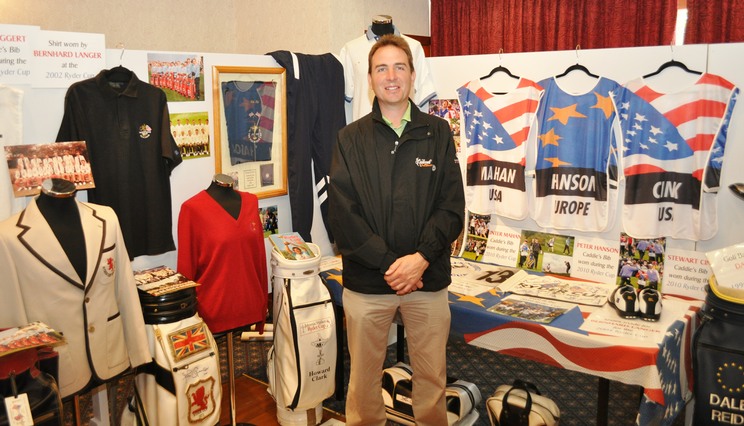 Darius Oliver
"Author of the highly acclaimed Planet Golf and Planet Golf USA, Darius Oliver is a greatly respected writer, course rater, and international golf consultant.
For the two Planet Golf books Darius Oliver spent five years visiting courses Across the globe, studying more than 900 layouts in 45 countries, making him one of the best-travelled and most authoritative voices on golf course design and architecture. He has also played and reviewed courses from more than 140 active golf architects, and is therefore able to provide clients with an independent and frank analysis of any designers short-listed for work.
Beyond writing and publishing books, Oliver also offers comprehensive and independent consulting services to golf clubs and golf developers around the world. His unique insight into golf course architecture, layout routing and master planning means he is well positioned to help elevate the golfing standards of a range of facilities.
From private clubs, municipal courses, resorts and residential developments, his design advice and deep understanding of what makes a great golf venue can be used to the advantage of clients looking to ensure their golf course is outstanding.
Darius Oliver is currently the architecture editor of Australian Golf Digest magazine. He also founded Australia's first golf web portal, ausgolf, and is experienced in all areas of golf course communications and marketing."

Darius's Official Website:

JOHN HAGEN - Author
John Hagen
"The St. Andrews Old Course Starter's Box was sold in a controversial international auction on September 10, 2001, the day before the infamy of the Twin Towers attack. Play Away Please recounts the glory of the little building in St. Andrews, "the Home of Golf," and tells the tale of those who used its services for 77 continuous years. Unlike many epics, the story does not center on a rich dynasty or a heroic quest for the truth.
Instead, it centers on the production of the perfect round of golf and the global marketing of the Box—one of the most celebrated buildings in the world of sport—as a brand and an icon. The book also chronicles the suspense and notoriety that greeted the Box after its voyage from Scotland to California, by way of the Panama Canal, and the role it assumed as an emotional balm for many in the aftermath of the September 11th atrocity. Alas, nothing is as simple as
it seems and miracles are rare.
The businessman who bought the Box was imprisoned before it reached Los Angeles, accused of stealing millions from the real-estate development that was to be its home. Eight years later, a happy ending was finally brought about, but only after a healthy dose of fear, suspense, and gutwrenching became a part of the story. Supplemented with exclusive photographs, Play Away Please is also a personal story of patronage and odyssey to assure the Box's preservation as the sporting world's consummate symbol of integrity and fair play. Along the way, the author brings to life the unforgettable local characters of Fife, celebrating their customs, lifestyle and unique command of the English language."
John's Official Website: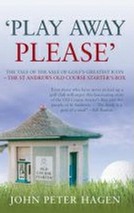 DAVID POOLE - Creator of Golf Dotz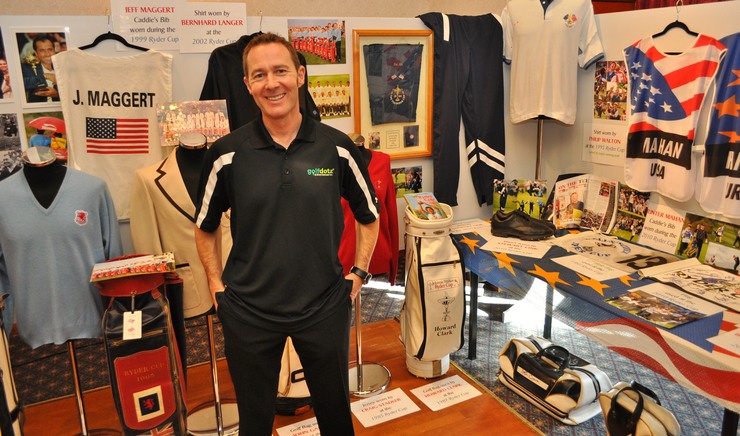 David Poole
David's Official Website:

BOB KURTZ- Guinness Book of World Records holder for
most golf holes played in a week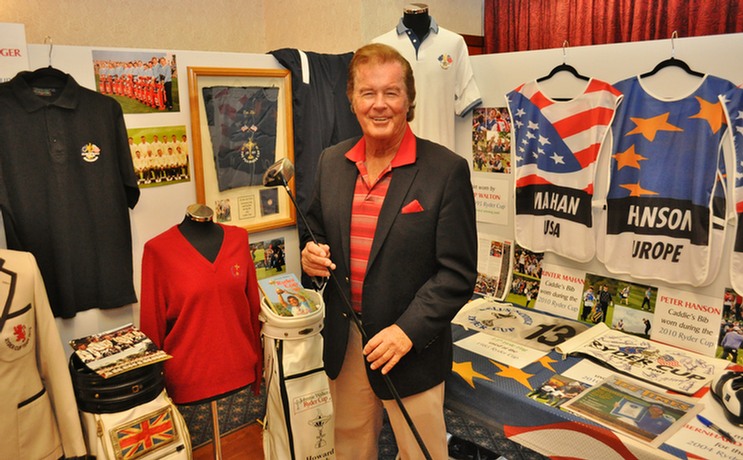 Bob Kurtz
"Most Golf Holes Played in A Week
Pastor Bob Kurtz sets world record June 2011
HARTSELLE, AL, USA -- Pastor Bob Kurtz, aka "Golf's Iron Man", a 70-year-old Episcopalian vicar, completed 1,850 holes of golf in a seven-day period at Quail Creek Golf Resort with 7,591 strokes for an average of 74.55 — only 2.55 strokes over par - setting the new world record for Most Golf Holes Played in a Week.
The previous Guinness world record for the Most golf holes played in seven days (cart) was set by Thomas Bucci (USA), who completed 1,801 golf holes in seven days at the Albany Country Club, Voorheesville, New York, USA.
"I was a little disappointed in my scores," Kurtz said. "I kept thinking that I was going to have one monster round. On one, I got off to a good start with several birdies on the front nine but finished the back nine with a 40."
He did it with the help of nearly 100 volunteers, teeing up balls, tracking scores and running the operation.
"He did it through spells of dehydration, sore hands, sore feet, blood blisters, record-setting heat and nightly IV drips. He also did it with an average score of 74.55 per 18 holes, shooting better than his age six times."
"To put this in perspective, the previous three people who set this record were 44, 34 and 28," Mike Janela, a representative of Guinness World Records, said. "So that makes this record even more special."
The record-setting and mind-numbing performance also raised money to help
provide relief to victims of the recent tornadoes in the region."
I was incredibly humbled and honoured when Bob donated the actual
Driver he used in his successful World Record attempt to me for my
collection. He also signed it for me.
Bob is a real gentleman and I was thrilled to have met him in St Andrews.
I wish him every success in the future!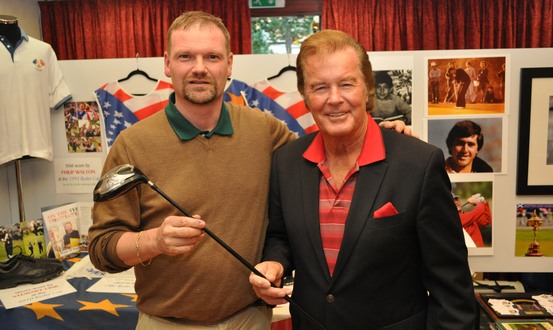 Bob presenting me with the signed Driver
Video showing Bob using the actual Driver
Bob's Official Website: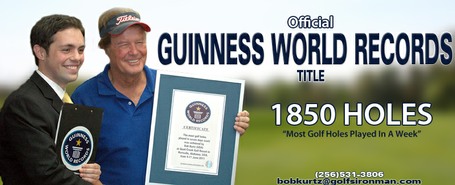 MUNGO PARK - Descendant of 1st Open Champion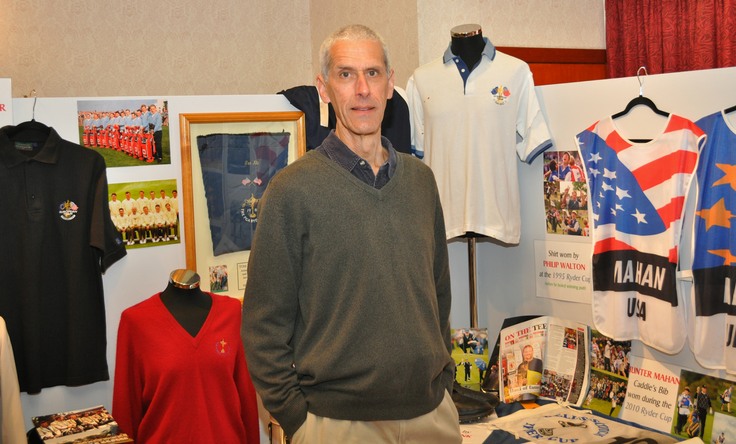 Mungo Park
"Mungo Park is the great grandson of Willie Park Senior, who won the very first Open Championship in 1860. Other Open Championship winners in his family include Willie Park Jnr and his namesake, Mungo Park.
Mungo is an architect and specialises in golf clubhouse design."
Mungo's Official Website:

DAVID JOY - Historian / Artist / Actor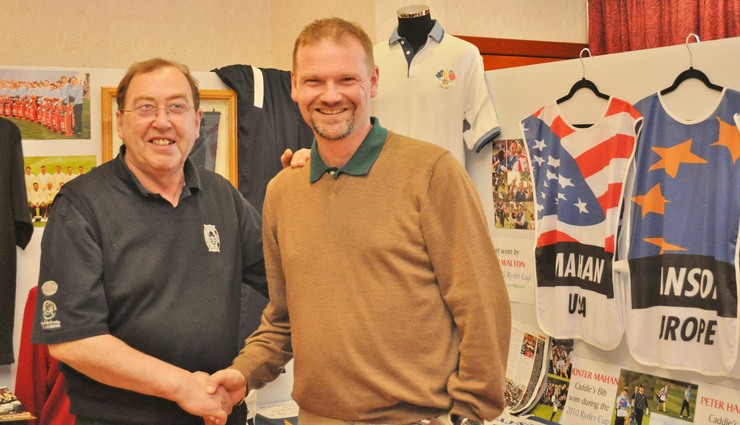 David Joy and me
"The Golf Historian
As a golf historian, his credits in televised golf-related documentary work include;
USA & Europe


The Spirit of Golf - TWI/Rolex 2007

The Old Course - TV Japan 2007

St. Andrews with Peter Alliss and Tom Morris

Golf - A Cruel Game - TWI

The Scottish Golf Show

Open Preview 2005 - ABC Sports

Preview Open 2005, Host - TV Asahi, Japan

The Life and Times of Bobby Jones - CBS

The Roots of Golf - Fuji TV (Japan)

Golf 100 Years BC - CBC (Canada)

The St Andrews Legacy - Quantum TV (USA)

The Old Course - STV (Scotland)

Tom Morris Keeper of the Greens - STV and Grampian TV (Scotland)

The Game of Golf - The Educational Channel (USA)

Golf Chat Live interviewed by Peter Kessler on the Golf Channel (USA)

The Magnificent Eight - St. Andrews - I.M.G. TV and video
The Performer
David Joy is a fourth generation born and bred St Andrean. He is probably best known as "The man who plays Tom Morris "- a one-man show premiered during the 1990 Open, which has since been televised and adapted as a commercial video and distributed world-wide under the name of Keeper of the Greens.
- Jack Nicklaus
- Peter Alliss
"I enjoyed it immensely and certainly understand how important it is to constantly remind people of the wonderful traditions of the game. If people cannot travel to St Andrews, your video provides a wonderful insight into this romantic town".
- Ben Crenshaw
The Author
He is the author of St Andrews and the Open Championship - The Official History, launched in America in early November 1999 and followed up by an extensive promotional tour of the States. Golf Digest wrote of the book, "It is the next best thing to being there - Joy writes with authority."
"Could not be more authentic. It breathes the spirit of St. Andrews." - Sunday Times.
Many of the photographs featured in this book were from Joy's own private collection of over 2000 prints and photos from 1847 to the turn of the century.
Out of the twenty-six Opens played on the Old Course, The Millennium Open at St Andrews was the tenth championship he has witnessed since he was a wee boy in 1955.
His next book, The Scrapbook of Old Tom Morris, illustrates the major transitional periods of golf from 1842 to 1908. It is already on its second print run.
Publishers Weekly, USA commented: "One of the most beautiful books for the holiday season".
David has also published Golf Links of Scotland and St Andrews, The Old course and its Champions and is presently working on two new books: All The Open Champions - featuring his illustrations and Tip - a nostalgic look at the 1960's with Arnold Palmer and the late Tip Anderson."
David's Official Website: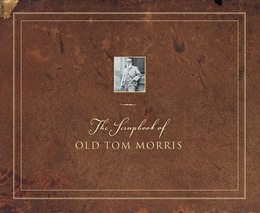 'OLD' TOM MORRIS aka David Joy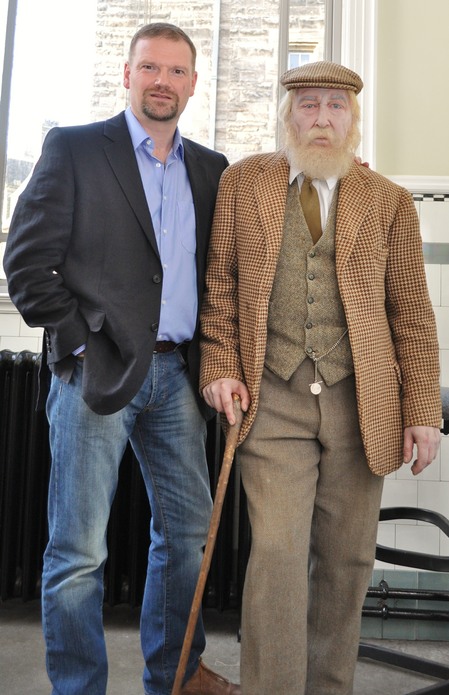 Meeting 'Old' Tom Morris in the Younger Hall, St Andrews at the
Golf Festival Awards Ceremony.
'Old' Tom was interviewed at this event which included the films of him
With John Cleese for the Titleist NXT advertisements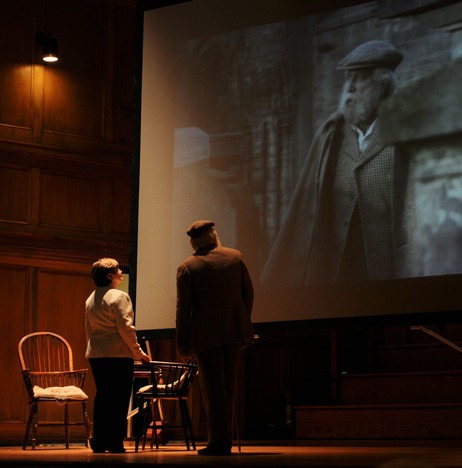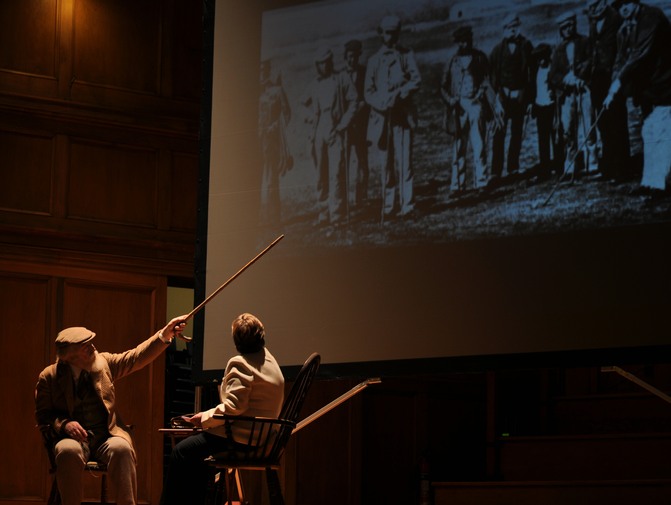 '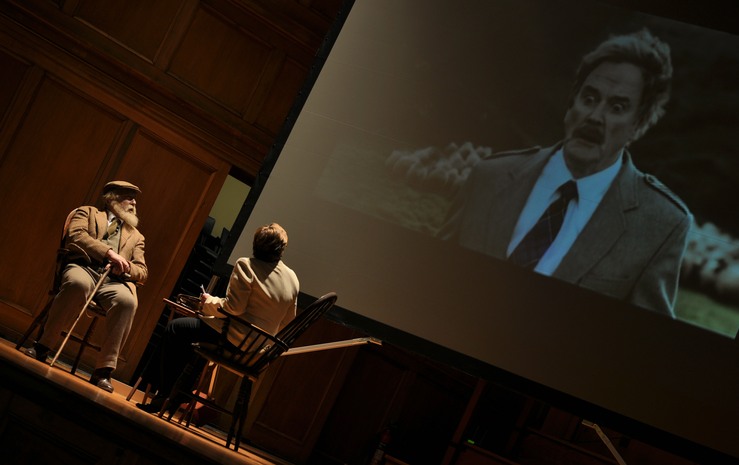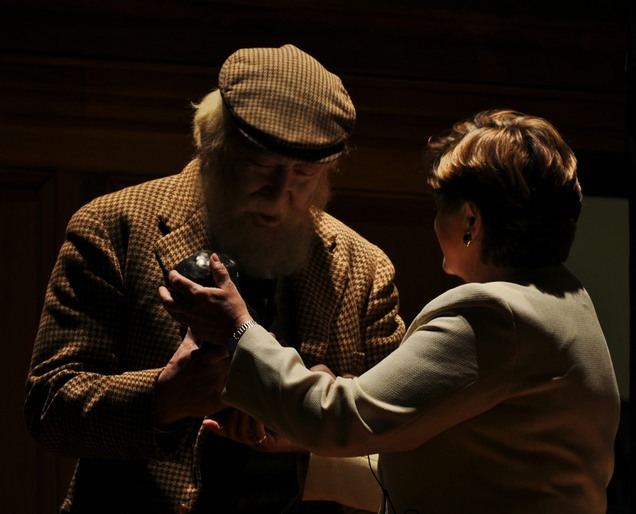 JOHN McTEAR - Former European Senior Tour Player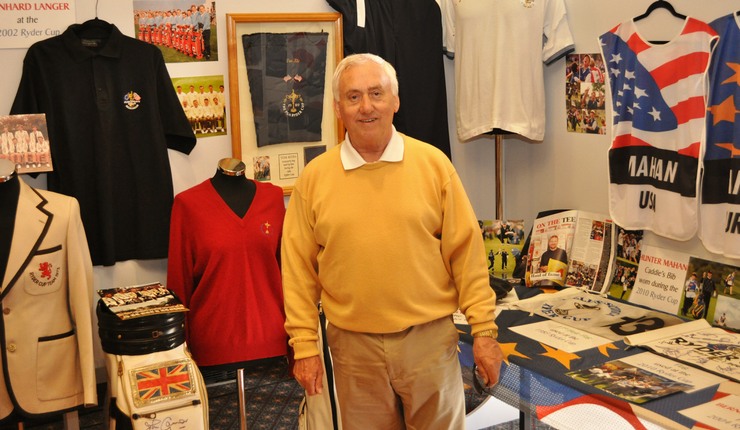 John McTear
DAVID ROLLO - Scottish International Rugby Player
(40 caps) and British Lion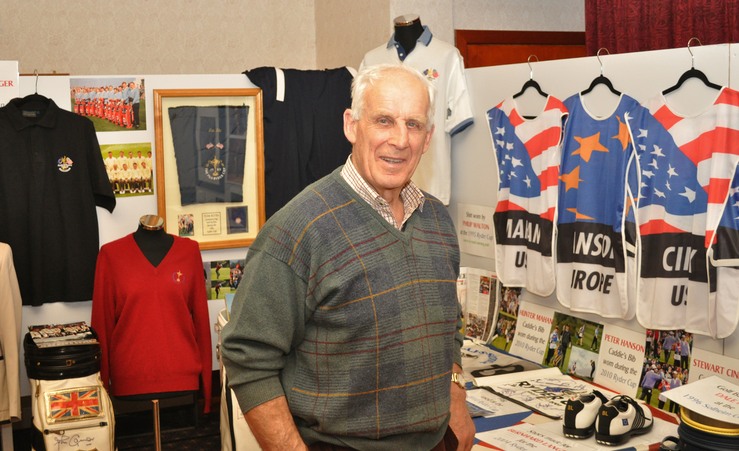 David Rollo
"Dave, a formidable front row forward, was capped 40 times for Scotland during the period 1959-68. An excellent ambassador for Scotland, his list of representative honours is huge. He toured South Africa with the 1962 British Lions, played for and captained the Barbarians and represented Irish Wolfhounds.
Dave toured South Africa with Scotland in 1960 and Canada in 1964. Dave was no slouch at seven-a-side playing in winning sides for the Howe of Fife and also featuring in a Scottish Co-optimist Seven that won a Murrayfield tournament. Dave, nicknamed "Prince" throughout the rugby world, is modest about his rugby prowess and is grateful for the local support he received throughout his rugby career. He is appreciative of Howe cancelling their 1st xv
game on 19 March 1959 in order to support him on his international debut at Twickenham."
I had the pleasure of staying with David and his wife Jean during the
Festival week, and would like to thank them both for their kind hospitality.
A Trip to St Andrews would not be complete without a visit to the
Hallowed Links. These are a selection of the photographs I took during
the Festival week.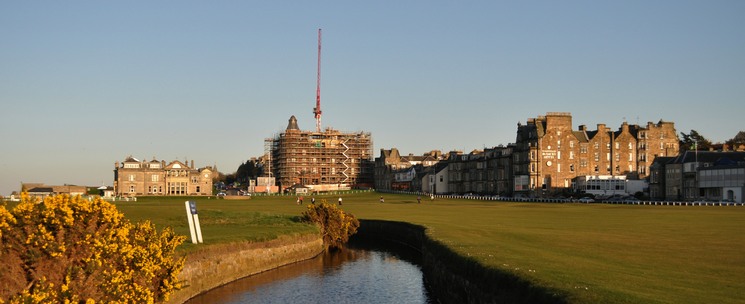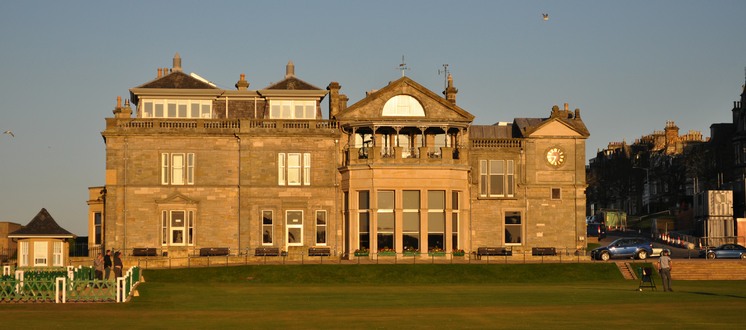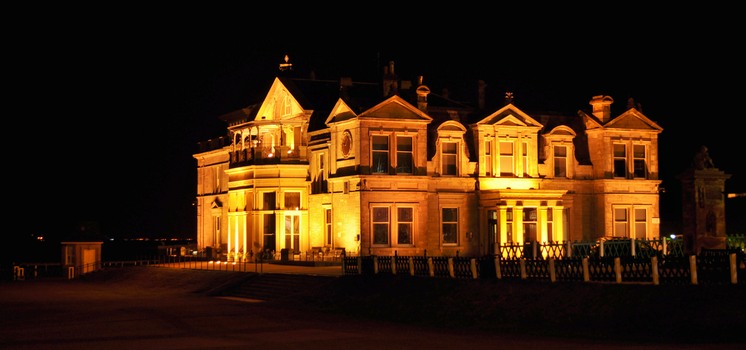 I would like to thank Richard Wax and Roger McStravick for inviting me to
participate in the 1st St Andrews Golf Festival. I would also like to thank all
Those who took time to visit the Festival. I had an amazing time, made
all the better by the friendships I made at the Festival.
I continually received amazing feedback with regards to my display.
I was also touched to see the following message left on my visitors page
after the Festival:
"I loved seeing your collection of Ryder Cup items at the St Andrews
Golf Festival. The bag, sweaters and bibs were fantastic to see and
your knowledge and stories of the items a joy to hear. Keep up the
great work collecting these items and hopefully one day there will be
the opportunity to display them all together for all to see."