The following Rules refer to the official recording of scores during
Tournament play.
6-6. Scoring in Stroke Play
a. Recording Scores
After each hole the marker should check the score with the competitor
and record it. On completion of the round the marker must sign the score
card and hand it to the competitor. If more than one marker records the
scores, each must sign for the part for which he is responsible.
b. Signing and Returning Card
After completion of the round, the competitor should check his score for
each hole and settle any doubtful points with the Committee. He must
ensure that the marker or markers have signed the score card, sign the
score card himself and return it to the Committee as soon as possible.
PENALTY FOR BREACH OF RULE 6-6b:
Disqualification.
c. Alteration of Card
No alteration may be made on a score card after the competitor has
returned it to the Committee.
d. Wrong Score for Hole
The competitor is responsible for the correctness of the score recorded for
each hole on his score card. If he returns a score for any hole lower than
actually taken, he is disqualified. If he returns a score for any hole higher
than actually taken, the score as returned stands.

Famous Scorecard Errors and Disqualifications
As long as golf has been played, players have been disqualified from
tournaments for Rules infractions. It's hard to pinpoint the first time this
ultimate penalty was used, but many feel the first occasion was in the 1876
British Open at St. Andrews. Bob Martin and Davie Strath were tied for the
lead at the end of regulation play, and thus a playoff would be needed to
settle the matter. However, during the course of regulation play, Strath was
accused of a Rules infraction when he drove into a group in front of him, a
breach of the Rule providing that no one shall play to a green with players
on it. After nothing was resolved, it was announced that the playoff would
be played under protest. Strath refused to compete in the playoff because
no decision had been made on his alleged infringement of the Rule, thus
disqualifying himself from winning the championship.
Since then, hundreds of golfers have been disqualified. What follows is a
brief summary of some of the most famous ones.
Jackie Pung - 1957 U.S. Women's Open
When Jackie Pung walked off the 18th green at Winged Foot with a 72-hole
score of 298, it looked like she was the winner. It was later discovered that
the scorecard that she signed had a 5 for the fourth hole instead of the 6
that she made. Even though the 18-hole total on the card was correct,
Pung had signed a wrong card so tournament officials had no choice but
to disqualify her. The first-place check that Pung didn't receive was for
$1,800. Winged Foot club members raised $3,000 to help console her for
the loss, but it couldn't change the fact her name is in the record books as
a DQ instead of a win.
Doug Sanders - 1966 Pensacola Open
After shooting a second-round 67 to go along with his opening round 63,
Doug Sanders had a four-shot lead. But instead of signing his scorecard,
Sanders signed dozens of autographs and forgot to sign his second-round
card. While he was in the press room talking about his round he was told
that he was disqualified for not signing the card. Back then first place paid
$10,000. Sanders estimated the disqualification cost him $25,000 in
endorsements with companies that paid bonuses for tournament victories.
Roberto De Vincenzo – 1968 Masters
Reigning British Open champion Roberto De Vicenzo finishes tied with Bob
Goalby at 11 under at the 1968 masters. However, he had to adjust his
score when officials learn that De Vicenzo's playing partner, Tommy Aaron,
mistakenly wrote down a par-4 on No,17 instead of the Argentine's correct
score - a birdie 3. Since he'd signed his scorecard, De Vicenzo had to settle
for the higher score and finished a shot behind Goalby. De Vicenzo
blamed himself, not Aaron, for the mistake. "What a stupid I am," he said.
Craig Stadler - 1987 Andy Williams Open
After finishing the tournament at 270, Craig Stadler went to the scorer's tent
feeling that he'd just finished in second place. Instead, he was informed
that he was disqualified for a Rules infraction the previous day. On the 14th
hole in the third round, Stadler's ball landed beneath a pine tree in a
muddy lie. He needed to play the shot from a kneeling position and since
he was wearing light-colored trousers he placed a towel on the wet
ground and kneeled on it while making the shot. At the time nobody
caught the mistake, but the next day while showing highlights of the
previous day's play Rules zealots spotted the error and relayed it to PGA
Tour officials. What Stadler had done was violate Rule 13-3, illegally building
a stance, and since he didn't add two strokes to his third-round score, he
was disqualified for turning in an incorrect scorecard. The disqualification
cost Stadler $37,333, which would have been his share of second place.
Greg Norman - 1990 Palm Meadows Cup
Going into the third round, it was appeared that a classic battle was about
to unfold, as Greg Norman had a one-shot lead over Curtis Strange.
However, on the driving range he found out that on the first day he had
taken an illegal drop from a water hazard. When told of the problem
Norman disqualified himself, thus losing a chance at the first-place check
of $160,000.
Paul Azinger - 1991 Doral Ryder Open
When Paul Azinger finished his second round, shooting a 65 to get within a
shot of the lead, he wasn't ushered off to the press room to recap his round
but was met by PGA Tour rules official Mike Shea, who took him to a CBS
television truck. A television viewer from Colorado watching the first-round
coverage of the tournament saw a Rules infraction during Azinger's round
and called up PGA Tour officials, who viewed the tape and agreed with
him. What happened was Azinger drove into the edge of the lake on the
18th hole at Doral. The ball was slightly submerged so Azinger decided to
go into the hazard and pitch it back in the fairway. While taking his stance
in the water, Azinger twice pawed the ground with his left foot, thus kicking
a small rock out of the way. What the Colorado viewer informed the tour
on was that Azinger broke Rule 13-4, which prohibits a player from moving
loose impediments in a hazard. When Azinger viewed the tape he agreed
that he had broken the rule, and since his first-round scorecard was alread
y signed it meant that he was disqualified, even though he was only a
stroke out of the lead.
Nick Faldo, Nick Price - 1992 Million Dollar Challenge
Two big disqualifications changed the total scope of the tournament, which
is famous for awarding a million dollars to the winner. The first came in the
third round when Nick Faldo was disqualified for signing an incorrect
scorecard. At the time, he was six back of the third-round leader and was
awarded last-place money of $105,000, a lot less than if he could have
earned with a solid final round. The other disqualification happened to Nick
Price, who was tied for the lead with David Frost. During the round, Price hit
a drive into the fairway and his caddie moved an advertising board which
was 25 yards ahead of Price's ball. The sign was classified as an immovable
obstruction, so Price should have gotten a free drop. He didn't know that,
and after his round when his scorecard was already signed, Price learned
that he should have dropped instead of taking the sign down. That meant
that Price had signed an incorrect scorecard. Even though local officials
told Price that he could change the card, Price rejected the offer and left
the scoring table, thus disqualifying himself from the tournament. Instead of
a chance at either the $1 million winner's check or the runner-up check of
$300,000, Price got $105,000.
Kim Young - 1993 Shell Houston Open
For Kim Young, a qualifying tournament graduate who had won just $2,343
in his first seven events, his first-round 68 turned into a nightmare. After a rain
delay, Young had to finish his round on Friday morning. After he finished he
only had 30 minutes before he had to tee off for his second round. In his
excitement, he never signed his first-round scorecard. PGA Tour officials
didn't notice the error until Young played a hole in the second round. They
informed him on the second tee that he was disqualified.
Isao Aoki - 1994 Doug Sanders Celebrity Classic
A leader of a tournament was disqualified for a Rules violation for the first
time in Senior PGA Tour history when Isao Aoki ran afoul of Decision 13-4/11
(smoothing footprints made in search for a ball in a bunker before playing
the stroke from a bunker). In the second round, Aoki hit a shot on the ninth
hole that plugged in a fairway bunker. After finding the ball he declared it
unplayable and picked it up. Then he and his caddie raked the bunker
before dropping the ball. According to the Rules, he had improved his lie
and should have incurred a two-shot penalty in addition to one stroke for
taking the unplayable lie. Aoki was unaware of the infraction and signed
for a 68 and was the second-round leader by one. The next day tour
officials were informed of the Rules violation, and when a videotape was
found that showed Aoki and his caddie raking the bunker it was
determined that Aoki did violate the Rule. Since he signed an incorrect
scorecard, he was disqualified. Aoki was told the bad news while he
played the second hole of the third round.
Nick Faldo - 1994 Alfred Dunhill Masters
Nick Faldo was leading by six with just seven holes left to play when it was
reported that in the third round he removed a piece of coral from behind
his ball in a bunker. On the European Tour this was allowed. However, this
tournament, played in Bali, Indonesia, was governed by the Australasian
Tour, and so his action was an infraction. Since Faldo had signed an
incorrect scorecard following the third round, he was disqualified from the
tournament, losing the first-place check of just over $100,000.
Bob Murphy - 1995 Burnet Senior Classic
After back-to-back rounds of 69, Bob Murphy was only five shots off the
pace going into the final round, but he didn't have a chance because of
a Rules infraction that happened in the first round. After the first of two
weather suspensions, Murphy returned to the 12th hole to await the
resumption of play. While he was waiting for the round to continue he
nonchalantly dropped a ball in the fairway and hit a few shots with his
putter. Mike Joyce noticed Murphy's actions and nonchalantly asked a
Rules official if this was legal. Even with the answer that it wasn't and that
Murphy should have been accessed a penalty, Joyce never told anyone
until Sunday morning when he told Murphy about it. Murphy then reported
it to tournament officials, and since he had signed his card he was guilty of
turning in an incorrect scorecard and was disqualified. Had Murphy shot 69
in the final round instead of being disqualified, he would have tied for fifth
placed and won $40,000.
Jeff Sluman - 1996 Bay Hill Invitational
After the second round Jeff Sluman was only two back of the leaders, but
he became concerned the night after the round when he thought he
may have taken an incorrect drop after hitting into a water hazard. The
next morning Sluman returned to the scene and confirmed that the drop
area which he used was closer to the hole and that his drop was incorrect.
He then disqualified himself from the tournament.
P H Horgan III - 1996 Nike Shreveport Open
While P.H. Horgan III was waiting for the final group to finish before the start
of the playoff between himself and Tim Loustalot, he was talking with a
Nike Tour tournament director and related an incident that happened
during the third round. It seemed that Horgan accidentally moved his ball
marker by dropping his ball on it. In talking with his playing partner they
agreed there was no infraction and proceeded to play. However, it was a
violation of Rule 20-1/5.5 and Horgan should have assessed himself a one-
stroke penalty. Since he signed an incorrect scorecard he was disqualified
from the tournament, and Loustalot won without having to have a playoff.
Meg Mallon - 1996 Jamie Farr Kroger Classic
Meg Mallon took the first-round lead with a 6-under-par 65, but then the
next day was disqualified for signing an incorrect scorecard. She had
stroked a putt that ended next to the hole, and slowly moved for another
18 to 20 seconds until it fell in. At the time, she thought she made a birdie
and signed her card for the birdie. But later on LPGA officials caught wind
that it could have been a Rules infraction. After investigating the situation,
the officials found out that Mallon did violate a Rule by waiting to long for
the putt to drop and had no choice but to disqualify her because she
signed an incorrect scorecard.
Davis Love III - 1997 Players Championship
In the final round on the 17th hole, Davis Love III accidentally hit his ball on
the putting green with a practice stroke. He did not replace the ball, two-
putted from there, and scored himself as having made a bogey 4.
However, he should have replaced his ball to the original spot before
continuing to putt. Not doing so is a one-stroke penalty, and thus his score
for the hole was actually a double-bogey 5. Officials found out about the
mistake, but unfortunately for Love it was after he signed his scorecard. So
instead of finishing T7th, he was disqualified for signing an incorrect
scorecard. The mistake cost Love $105,000 as well as valuable Ryder Cup
qualifying points. However, he did go on to make the 1997 U.S. Ryder Cup
team.
Lee Janzen - 1998 NEC World Series of Golf
In the first round, Lee Janzen was another in violation of Rule 16-2, waiting
too long for his putt to drop in the hole. On the 17th hole his birdie putt
hung on the lip. Janzen walked up to the hole, then past it, bent down to
survey the ball, and stared at it. He looked at his fellow competitor Vijay
Singh, who also walked up and bent down to see the ball creeping toward
the hole. About 20 seconds after Janzen arrived at the ball, he went to tap
the ball in but it dropped into the hole. After the round he signed for a
birdie 3 instead of a par 4. When the incident was later shown on television,
viewers contacted PGA Tour officials, who in screening the tape realized
that Janzen violated the Rules and disqualified him. At the time, it wasn't a
big deal, but at the end of the year the disqualification did cost him a spot
on the Presidents Cup team. He luckily got to play on the squad only
because Hal Sutton's father-in-law died, forcing Sutton to withdraw and
give his spot to Janzen.
Jaxon Brigman – 1999 PGA Qualifying School
Aspiring PGA Tour pro Jaxon Brigham pieces together a final round 65 at
the 1999 Qualifying School Tournament, but inadvertently signs his
scorecard which adds up to 66. The extra shot cost him his PGA Tour card.
Padraig Harrington – 2000 Benson and Hedges International Open
Overnight leader Padraig Harrington was dramatically disqualified from the
Benson and Hedges International Open before his final round at the Belfry
on Sunday for forgetting to sign his scorecard on Thursday. The news was
announced half an hour before Harrington was due to tee off. The Irishman
had been five strokes clear of Jose Maria Olazabal and Welshman Phil
Price.
On Saturday, Harrington had shot a course record 64 which included eight
birdies, and going into Sunday was in line for the biggest win of his career.
The European Tour's senior referee Andy McFee explained: "The Belfry Hotel
spoke to us this morning and asked if we could get the cards of all
potential winners so they could frame them. In the process our staff
noticed that while his first-round card had two signatures on it, neither was
Padraig's. Nowhere is there an attestation from the player that the round is
accurate and that is a breach of the rules. The penalty is disqualification."
McFee spoke to Harrington as he was warming up on the driving range and
took him alongside to give them the devastating news.
"We all know he is an extremely level-headed person and he knew there
was nowhere else to go. I suspect he is desperately disappointed - we all
are. I asked him to show me his signature and he couldn't. For some reason
Michael Campbell had signed all three cards for the group and it was his
signature where Harrington's was supposed to be. This goes to the very core
of the game. Golf is not played in the constant gaze of a referee and
because of that it is very easy to do things that aren't correct. You have to
hold up your card to the rest of the world. It's a core principal."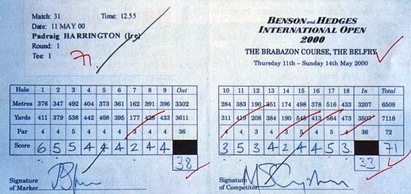 Harrington's scorecard signed by Jamie Spence and Michael Campbell
Mark Roe and Jesper Parnevik- 2003 British Open
What should have been one of the best day's of the journeyman pro's
career wound up being his worst. Roe fired a third-round 67 at Royal St.
George's that left him three shots off the lead, but he and playing-partner
Jesper Parnevik were both disqualified after the round for failing to
exchange scorecards before teeing off. The result was that they both
signed for the wrong score, hence their dismissal from the tournament. The
R & A has since changed the rule, but it didn't change the result for Roe,
who never contended at another major championship.
Michelle Wie – 2005 LPGA Samsung World Championship
In her much-anticipated professional debut, teenage phenom Michelle Wie
takes a penalty drop for an unplayable lie during the third round of the
2005 LPGA Samsung World Championship. A reporter for Sports Illustrated
watches the incident and concludes Wie dropped closer to the hole than
where the ball originally lay, a violation of the rules. The reporter doesn't
inform officials of the incident until the next day. Wie is disqualified for
signing an incorrect scorecard.
Yang Yong-eun - 2007 HSBC Champions
South Korean defending champion Yang Yong-eun was disqualified from
the $5 million HSBC Champions on Sunday for signing for the wrong score
after his third round.
The 35-year-old shared fifth place with four other players on seven under
par going into the final day of Asia's richest tournament after rounds of 71,
68 and 70.
However, according to a statement released by the organisers, his
scorecard for Saturday's round gave him a par four for the 12th hole when
in fact he had made a bogey five.
His error at the 12th was balanced out by another mistake on the card,
when he awarded himself a par three at the 17th rather than the birdie
two he had scored.
The first error, which was spotted by a spectator who alerted the organisers,
required his disqualification from the event under the rules of golf.
"I'm shocked, it's unbelievable," said Yang. "At the end of the day though, it's
my fault for not checking the scores. I checked the total scores at the end
of the back nine and I assumed that everything was all right. I'm very
disappointed as this is my last tournament for this year and I will also be
heading to the U.S. PGA qualifying school so I wanted a good finish here."
Steve Flesch – 2009 The Barclays Golf Tournament
Steve Flesch was disqualified for signing an incorrect scorecard after
Friday's second-round play of The Barclays golf tournament at Liberty
National Golf Course in Jersey City, NJ. Flesch signed for a birdie at the
sixth hole when he actually made par.
Raymond Russell – 2010 South African Open
David Drysdale and Raymond Russell had contrasting fortunes as the first
round of the was completed yesterday following the weather delay in
Durban on Thursday.
While Drysdale tucked himself in just behind the leaders with a five-under-
par 67, Russell was disqualified over an error on his scorecard .Playing in his
first full European Tour event in more than four years, the former Cannes
Open champion shot a 71 only to be eliminated from the event after it
was discovered that he had signed for 4's at the 13th and 14th when, in
fact, he had taken a 3 and a 5 at those holes.
It was a devastating blow for Russell, who earned his place back on the
main circuit after a good season on the Challenge Tour and had
headed to South Africa straight from playing in the final stage of the
Qualifying School in Spain
Padraig Harrington – 2011 Abu Dhabi HSBC Championship
Ireland's Padraig Harrington has been disqualified from the Abu Dhabi
HSBC Championship after signing for a wrong score in his first-round 65.
Harrington's hand brushed the back of his ball on hole seven as he
replaced it in front of his marker.
The ball rocked forward and television slow-motion replays showed that it
did not return to its original position.
"I looked down and was pretty sure it had just oscillated and had not
moved, so I continued on," said Harrington.
"In slow motion it's pretty clear the ball has moved three dimples forward
and it's come back maybe a dimple and a half. At the end of the day
that's good enough, but I wouldn't have done anything differently -
there was nothing I could do about it at that moment in time. If I'd called
a referee over it would have been pointless because if he'd asked me
where my ball was I'd have said it was there. As far as I was concerned it
didn't move."
A television viewer phoned in to bring the incident to the attention of the
European Tour after the Dubliner had signed his scorecard, resulting in the
disqualification.
Tour senior referee Andy McFee, said: "I got an email from the Tour
feedback site just before six o'clock [on Thursday]. I managed to get a
look and knew immediately we had an issue. I got all members of the
rules committee to look at the tape. Because everything was closing
down I decided to sleep on it and speak to Padraig first thing this morning
[Friday]. It's a minute movement, but it's a movement and he never
replaced it, so he should have included a two-stroke penalty. The fact
that he is unaware he moved the ball unfortunately does not help him.
Because he signed for a score lower than actually taken the penalty is
disqualification."
Camilo Villegas – 2011 The Tournament of Champions
Video of Camilo Villegas disqualification
At The Tournament of Champions Camilo Villegas was disqualified for a
rules violation when a television viewer called in after the opening round
at Kapalua.
Villegas was chipping up the slope to the 15th green when the ball twice
rolled back toward him. The second time, Villegas walked over and
casually swatted away some loose pieces of grass in front of the divot as
the ball was still moving down the slope.
That is a violation of Rule 23-1 that says, "When a ball is in motion, a loose
impediment that might influence the movement of the ball must not be
removed." The penalty is two shots. Villegas opened with a 72, and he
was disqualified for signing an incorrect scorecard.
Villegas handled it with a little humour and a lot of perspective.
"If somebody called something in, I probably did something wrong," he
said with a shrug.

How common are mistakes?
To appreciate how easy, and indeed how often mistakes are made by
professional golfers, I have carefully studied the scorecards from the
1993 Nike Ozarks Open (see link above right). I have 392 scorecards from
this event, with only the four of the winner, Tommy Tolles, and two or
three others missing.
The results are stunning! All the errors have been corrected prior to the
player signing the card so the cards are all legitimate.
There is a total of 103 individual scoring errors on 79 of the 392 cards!
Some of the more interesting scorecards in my collection
Autographed Exhibition Scorecard - 1943
Although not an official tournament used scorecard ,the following card
was Issued to spectators for an Exhibition Match at the Redhill & Reigate
Golf Club on 30 May 1943
What makes this scorecard so special is the signatures. The first one is Bryan
Michie, who was a famous Radio personality who acted as compere for
the event. Then the four golfers who took part in the Exhibition Match,
Gregor McIntosh, Richard Burton (1939 Open Champion) who
replaced Abe Mitchell, Sam King and Alf Padgham (1936 Open
Champion).
The last signature is that of James Braid (1901, 1905, 1906, 1908 and 1910
Open Champion)
Braid, who was by then 73 years old, acted as Official referee and during
the match suggested changes to the layout of the course which were
duly acted upon!
A Major scorecard marked by one of the Greats!
This is Ted Kroll's 1st Round scorecard from the 1960 US PGA Championship
The marker was Ben Hogan

Another Major scorecard marked by one of the Greats!
This is Mike Souchak's 1st Round scorecard from the 1960 US PGA
Championship

The marker was Sam Snead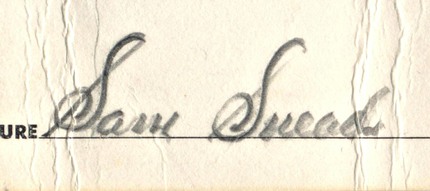 Winning Scorecards
It is incredibly difficult to obtain the actual scorecards belonging to the
winner of any event. Normally these are retained by the Tour, the Host
Club or given to the player themselves
Sam Torrance wins PGA Championship of Australia 1980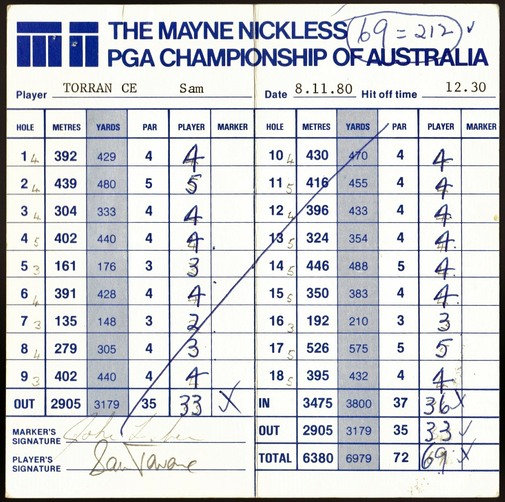 This is the third round scorecard of Sam Torrance when he won the 1980
The Mayne Nickless PGA Championship of Australia. Marker unknown.
Bernhard Langer wins Bob Hope British Classic 1981



These are two of the four scorecards of Bernhard Langer when he won the
1981 British Bob Hope Classic. They are marked and signed by Clive Clark
and Peter Oosterhuis respectively
Blaine McCallister wins Hardee's Golf Classic 1988



These are four scorecards of Blaine McCallister when he won the 1988
Hardee's Golf Classic. They are marked and signed by Mike Hulbert, Russ
Cochran and Dan Forsman
Open Scorecard
In all my years of collecting, other than ones on display in The British Golf
Museum in St Andrews, this is the only other Open scorecard I have seen
This is the 3rd Round scorecard of Maurice Bembridge, from the 1971 Open
Championship played at Royal Birkdale. It is marked and signed by
Donald Swaelens
Ace cards!
'Holes-in-one' are incredibly rare, as are the cards on which they are
recorded. The following scorecards all show recorded 'holes in one' during
Official PGA Tournaments

Jerry Haas scores a hole-in-one at the 4th hole during the 2nd Round 1993
Nike Ozarks Open. Card marked and signed by Omar Uresti

Dick Hendrickson scores a hole-in-one at the 6th hole during the 2nd Round
1994 Southwestern Bell Classic. Card marked and signed by Bob Panasik

Phil Tataurangi scores a hole-in-one at the 9th hole during the 3rd Round
1994 Texas Open. Card marked and signed by Billy Mayfair

Doug Martin scores a hole-in-one at the 17th hole during the 2nd Round
1997 GTE Byron Nelson Classic. Card marked and signed by Stewart Cink
Disqualified!
On the same day Phil Tataurangi had a hole-in-one at the Texas Open (see
above) J L Lewis had a day to forget

His 3rd round scorecard card was being marked by playing partner Chris Di
Marco, who inscribed a 3 for the 9th hole. J L Lewis signed the card before
it was found he had taken a 4. Because the card had been signed Lewis
was disqualified
Jack Nicklaus suffers Major withdrawal
This is the official scorecard of Jack Nicklaus ,from the 2nd round
of the 2001 Ford Senior Players Championship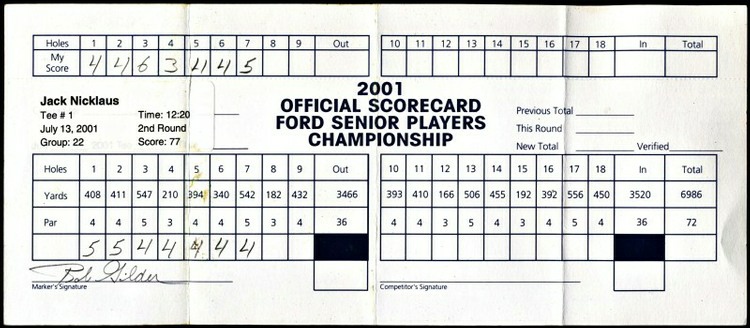 I received it from Harry Brown, who was caddying for Bob Gilder that day
Here is Harry's own personal story about the scorecard:
'This scorecard is genuine and very unusual. How many times
has Jack Nicklaus withdrawn while on the golf course during a
PGA Tour event? During the 2001 Ford Seniors Tournament
Player's Championship, one of the 4 majors on the Senior PGA
Tour, Jack Nicklaus was having problems with his new hip and
had back problems as well. His score wasn't very good either.
So he withdrew after 9 holes of the 2nd round. This was a
threesome. Bob Gilder was keeping Jack's card and I was
caddying for Gilder. When Jack withdrew, what happens is the
3rd player (Stuart Ginn as I remember), who was keeping
Gilder's card, continues to keep Gilder's card, and Jack hands
the 3rd player's card to Gilder. Jack's card was now irrelevant,
and nobody asked me for it. Bob Gilder always attests the card
he keeps early in the round, so the card has his signature along
with the printed label identifying it as Jack Nicklaus 2nd round
scorecard. Gilder has entered the scores for the 1st 7 holes. As I
remember Nicklaus made a bogey 4 on #8 that day and a par
4 on #9, but Gilder did not yet enter those scores before Jack
withdrew, so there is no entry for those holes.'
Jack Nicklaus, Arnold Palmer, Gary Player
and Tom Watson Scorecards
Jack Nicklaus
Jack Nicklaus's 3rd Round scorecard from the 1994 Northville Long Island
Classic. Marked and signed by John Paul Cain

John Mahaffey's 2nd Round scorecard from the 1992 US PGA
Championship. Marked and signed by Jack Nicklaus

Hal Sutton's 2nd Round scorecard from the 1994 US PGA Championship
Marked and signed by Jack Nicklaus
Arnold Palmer

Tommy Aaron's 2nd Round scorecard from the 1994 Burnet Senior Classic
Marked and signed by Arnold Palmer
Gary Player

Gary Player's 2nd Round scorecard from the 1980 Memorial Tournament
Marked and signed by George Burns

Gary Player's 3rd Round scorecard from the 1984 Honda Classic
Marked and signed by Lou Graham

Jerry McGee's 3rd Round scorecard from the 1994 Bellsouth Senior
Classic. Marked and signed by Gary Player

Rocky Thompson's 3rd Round scorecard from the 1994 Burnet Senior
Classic. Marked and signed by Gary Player
Tom Watson
Tom Watson's 3rd Round scorecard from the 1980 Memorial Tournament
Marked and signed by Bob Gilder

Tom Watson's 1st Round scorecard from the 1995 Phoenix Open
Marked and signed by Payne Stewart

Tom Watson's 4th Round scorecard from the 1996 NEC World Series Of
Golf. Marked and signed by Scott Hoch

Jim Hallett's 1st Round scorecard from the 1991 Shearson Lehman
Brothers Open. Marked and signed by Tom Watson
The Trials and Tribulations of John Daly

John Daly's 2nd Round scorecard from the 1994 Greater Greensboro
Open. Marked and signed by Billy Andrade. The previous evening John
Daly had shaved his head, and played this round under intense pressure
from the media
John Daly's 2nd Round scorecard from the 1997 US Open
It was being marked by Payne Stewart prior to John Daly's sudden
withdrawal. This is how it was reported in the media at the time
Daly makes abrupt, quiet exit at the turn 'Physically exhausted,'
he leaves without telling caddie or partners
June 14, 1997
Plenty of curiosity seekers followed the eighth group to the No. 9 tee
yesterday. They wanted to see if John Daly would attempt to reach the
mammoth par-5 in two shots, but what the gallery witnessed was a bogey
and his exit from the U.S. Open.
The erratic Daly, winner of two major championships and a recovering
alcoholic, never made it to the 10th tee in the second round. Leaving his
caddie and playing partners without commenting, he detoured through
the clubhouse and to the players' parking lot, where he beat an
impending cut and got a head start on the way to his Memphis home.
Callaway Golf recently began a major advertising campaign involving
Daly, centering around the slogan "Keep It Straight, John."
A release from the company that attempted to explain his withdrawal
quoted Daly as saying: "Even though I thought I was going to be strong
enough to come right back and play three straight weeks on Tour, I found
out I was wrong. I just started feeling real weak after a few holes today,
and by the time I got to No. 9, I was physically exhausted."
The U.S. Open was Daly's third consecutive tournament, and he was
uneasy even before it began.
Daly had a 77 in the first round, and bogeyed Nos. 1 and 5 yesterday,
when he played with Ernie Els and Payne Stewart. He showed no signs of
fatigue on No. 8, where he missed a short putt for birdie, but the 607-yard
ninth was a grind.
He drove into the left rough, hacked his ball forward less than 150 yards
onto a grass path, then put his third shot into the rough right of the green.
It took two chips to get his ball out of rough and onto the green, where
Daly made a short putt for bogey.
There was a two-minute wait at the 10th tee for the previous group to hit
their second shots, but Daly was still nowhere to be seen when Els laced
his drive long and straight and Stewart put his in the fairway.
"I've been working the Open for 10 years, and this is the first time this has
happened," said Stuart Reid, the USGA rules official with the group. "[Daly]
went through the mess of people going from the ninth green to the 10th
tee. We turned around and he was gone. His caddie [Brian Alexander] was
on the 10th tee, in a state of panic.
"[Daly] never said a word to him, never said a word to me, never said a
word to the walking scorer, and never said a word to his fellow
competitors."
Minus a third ball, the twosome waited on every hole on the back nine.
Stewart was in no mood to talk about the incident, and Els said, "I didn't
see anything wrong with the guy."
Major Winners signed blank Scorecards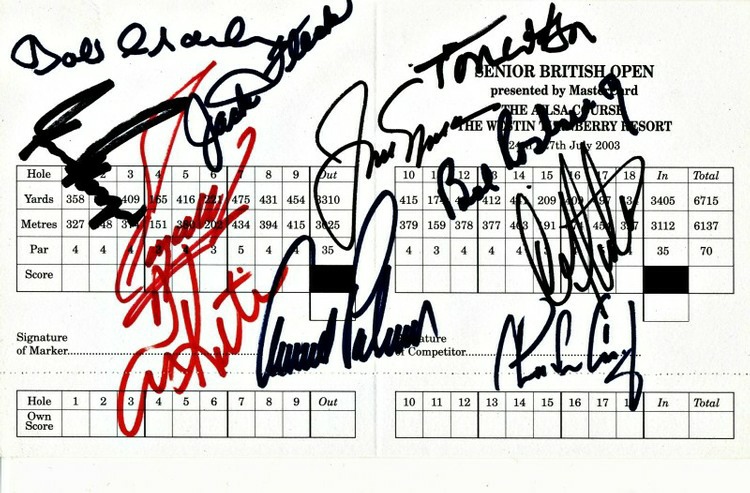 An Official scorecard from the 2003 British Senior's Open signed by the
following Major Winners:
Bob Charles, Charles Coody, Jack Fleck, Tom Kite, Jack Nicklaus, Arnold
Palmer, Gary Player, Bob Rosburg, Craig Stadler, Tom Watson and Fuzzy
Zoeller.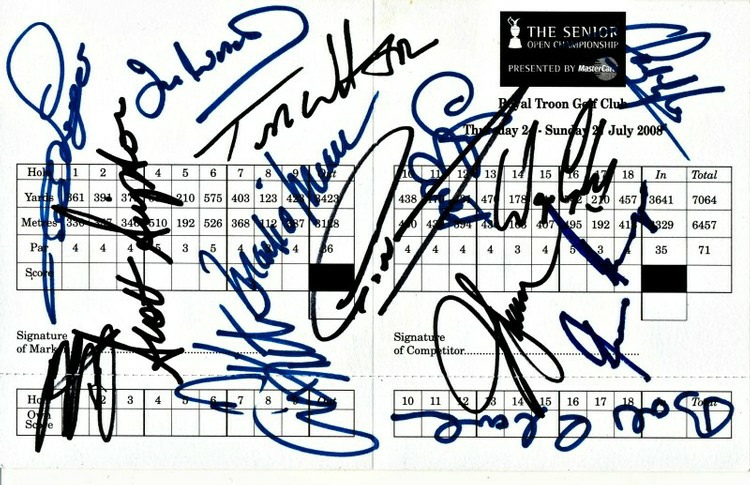 An Official scorecard from the 2008 British Senior's Open signed by the
following Major Winners:
Bob Charles, Wayne Grady, Tom Kite, Bernhard Langer, Sandy Lyle,Greg
Norman, Mark O'Meara, Gary Player, Scott Simpson, Jeff Sluman,Craig
Stadler, Tom Watson and Ian Woosnam.(also signed by Chris Evert)